This is about the Equatorial Platform I recently ordered from Dr. Rakesh Patel. I've been using this for couple of months now.  This product deserves a review and must reach to the people who use DSLRs and dobsonion telescopes.
What's the need?
Dobsonian telescopes are popular instruments. They provide large apertures for a reasonable price and are suited to observing faint, deep-sky objects. Their wide optics can also cope with high magnifications. They usually operate based on Alt-Azimuth method, means one axis moves it vertically while the other moves it horizonatlly. These motions are manual. User has to move the telescope according to the target.
Here is the picture of our Guan Sheng - 12 inch Dobsonian Telescope.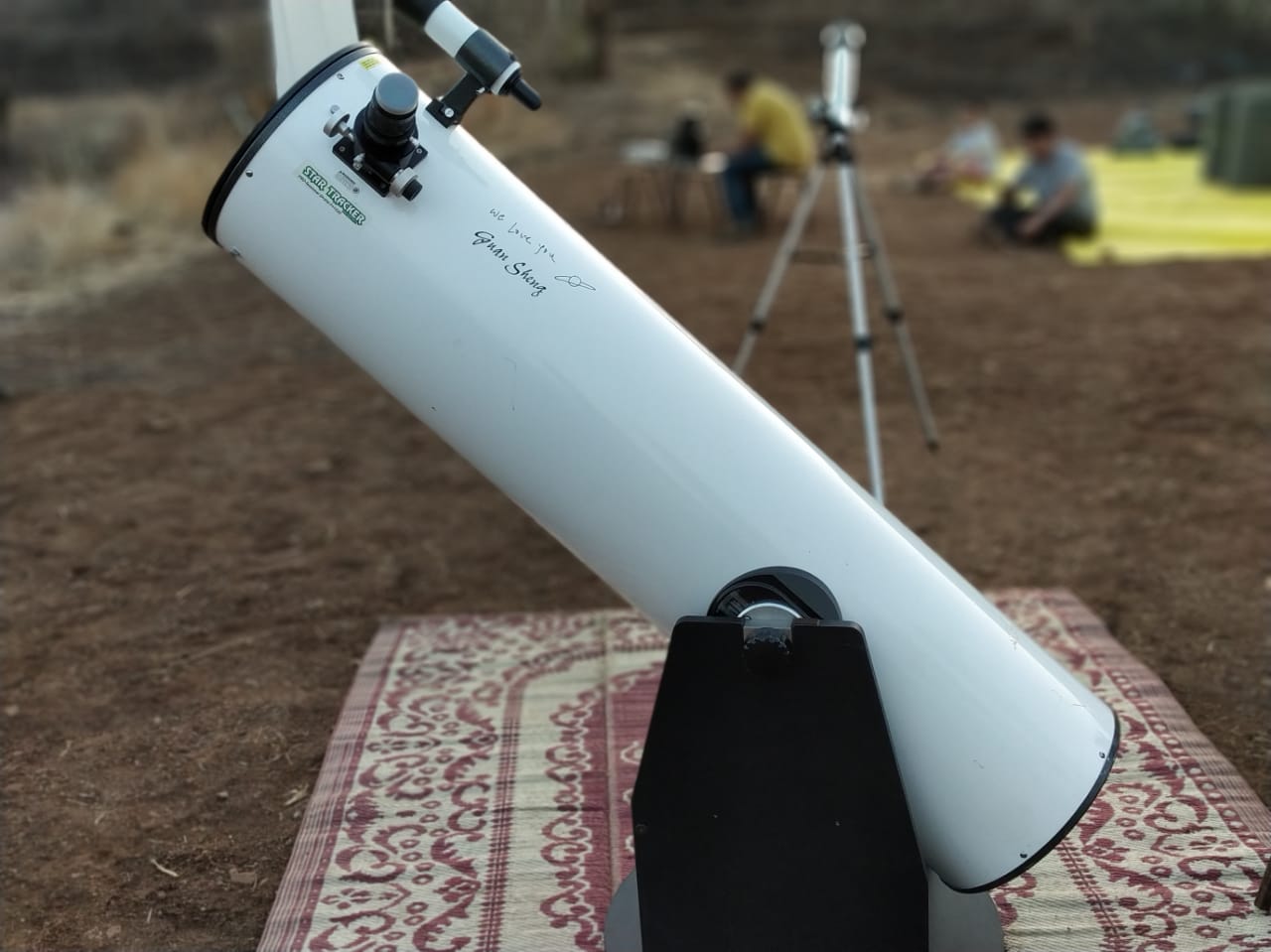 As you are aware that all the stars, planets, moon, deep-sky objects, etc rise from east, as time passes, they move forward in night sky and set on west.
A fixed telescope can have any particular target in field of few for very tiny amount of time- only for few seconds. By then, the object in the sky has moved forward, but rememeber the telescope has not moved. So you need to adjust the telescope a little to get the object again in field of view.
For smaller telescope, this is done by the automated equatorial mounts. The motor keeps the telescope rotating exactly at the same rate that of an object being observed.
However, large aperture telescopes are bulky and heavy and hence traditional equatorial mounts are not suitable for them.
What's an Equatorial Platform?
An equatorial platform or equatorial table is an equatorial telescope mount in the form of a specially designed platform that allows any device sitting on it to track astronomical objects in the sky on an equatorial axis.
They are used to give equatorial tracking to any device sitting on them, from small cameras up to heavy observatories. They are often used with altazimuth mounted telescopes, such as the common Dobsonian telescope type, to overcome that type of mount's inability to track the night sky.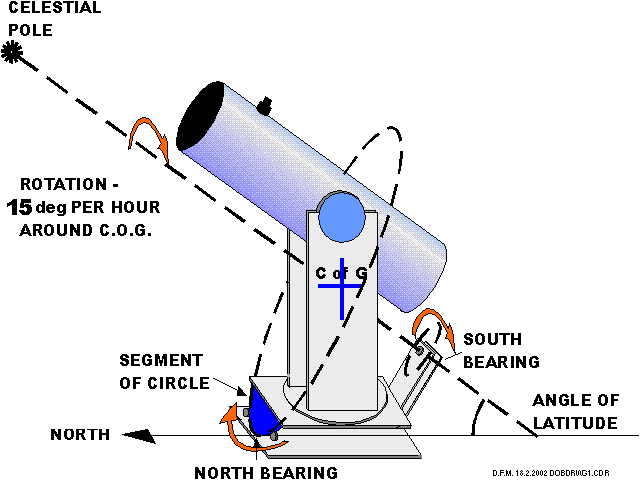 These platforms can track upto 45-50 minutes, which in my opinion are more than enough for long exposure photography.
If you wish to go in details about how it works, you can visit the wiki - https://en.wikipedia.org/wiki/Equatorial_platform
Our equatorial platform - Made to order from Dr. Rakesh Patel (Gujarat).
Readymade equatorial platforms are very costly, especially in India. Luckily, well known astro-photographer Prabhu Kutti gave me the contact of Dr. Rakesh Patel.
Rakesh has built several equatorial platforms. I placed an order and after a month the platform arrived. My telescope is GSO 12" Dob - pretty standard and widely used, hence Rakesh took most of the details about it from the internet. I only have to share my location details from where I am going to operate the mount.
Getting Started
When the package arrived, it was intact, nicely wrapped in foam bottoms. Separate boxes for the controller and adapter.
It has a solid Alluminium body, which makes is stronger to carry upto 50Kgs of payload. It is very light weight, just around 7 Kgs, making it easily portable.
Metal body makes it weather proof as well.
Rakesh has done adequate markings on the platform, and mentioned the exact place of every attachment. A special ramp for laser pointer, for preceise alignment.
Assembly is pretty easy ans straight forward.
Platform operates on 12V DC. I connect it to my power bank(special homemade connector USB-to-DC).
Tracking
Please note- the tracking durations mentioned below are approximate.
Planets:
With 9mm eyepice (172x magnification) - Saturn and Jupiter.
Precise tracking for more than 10 minutes. In 10-12 minutes, very small change in the object position can be noticed. But object stays relatively at center of FOV for about 20 minutes.
Stars and DSOs:
With 30mm eyepice (50x magnification) - Objects stracked - Vega, Sirius, Orion
Very precise tracking for more than 25 minutes.
Moon:
With 30mm eyepice (50x magnification)
Very precise tracking for around 25 minutes.
With 9mm eyepice (172x magnification)
After 8-10 minutes, a small drift in the image can be noticed.
Limitations:
When telescope is pointed towards the near east or west horizon, the shaft fails to lift the payload from its initial position.
There is a quick fix for this - put some counter weight such as water bottle, on the opposite end of the mount.
Precise tracking duration is expected to be about 45 minutes. But in reality, it is limited to 20-25 minutes only. A little adjustments can further extend it to 40 minutes.
Pros:
Equatorial platform is a boon for dobsonian telescopes. Even 10 minutes of precise tracking is more than enough for anyone doing long exposure photography. Mount gives you approx 25 minutes of precise tracking, and with little adjustments, you can utilize it fully for 40 minutes.
Payload capacity upto 50Kgs !! This will include your telescope, dobsonian stand, finder scope, eyepice, extenstion tubes, camera and literally anything you put on your telescope. What else you want!
Easy to assemble, easy to carry, easy to use.
This can be used with Cameras and small telescopes also. Great way to may your equipment  auto-tracked !
This mount is made in India, and available at very cheap price compared to readymade mounts available in the market.
Strongly recommanded.
Contact - Dr. Rakesh Patel - 9913531014
 
Cheers,
Happy Sky Gazing Everyone !
Amateur Astronomers Group
Comments
Post a Comment